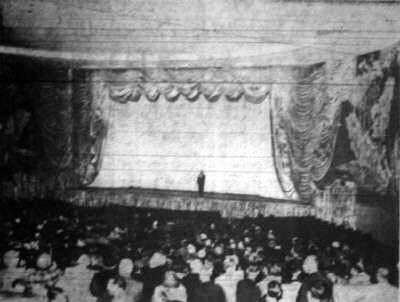 PREVIEW AUDIENCE AT NEW THEATER - Mayor Earl J. Glade (on the stage) commends builders of Villa Theater in Sugar House at preview opening Tuesday night. A portion of the 1000 who braved cold weather to attend the show are shown in the main auditorium.
More Than 1000 Are Feted
At Villa Theater Preview
Deseret News, 21 December 1949, page A8

Given a preview inspection by business, civic, and church leaders Tuesday night, the new Villa Theater was being put in final shape for its official public opening Friday.
More than 1000 specially invited guests braved icy cold to attend an invitational showing of the Metro-Goldwyn-Mayer picture, "Battleground," Tuesday evening at the showhouse and all congratulated the management on having one of the most up-to-date and modern theaters in the area.
All agreed with Mayor Earl J. Glade, who officially lauded Joseph L. Lawrence and David K. Edwards for their confidence in the future growth of the area which caused them to expend $350,000 to build "this magnificent and lovely structure." He said their wisdom is the type that has characterized people of this area since pioneer times. The mayor also gave a brief account of the beginnings of motion pictures. Harry B. Ashton, manager of the Villa and supervisor of the Uptown in Salt Lake, introduced the mayor.
Prior to and after the showing of "Battleground," the guests inspected the structure --- from the deep coral and rust-colored carpeting beginning at the entrance, to the plush and velvet pastel-colored drapes at the front. Mr. Ashton and Carl P. Nedley, branch manager for MGM in Salt Lake, greeted guests as they entered the foyer.
Special interest was shown in the modernistic paintings covering the full length of both walls in the main auditorium. Done on a dark brown background corresponding to the dark brown background of the carpeting, the paintings brought many comments of admiration from guests.
Praise was heard also for the well-lighted car parking lot to the rear and side of the building and for the up-to-date and modern appearance of the two large marquees, including an island marquee northeast of the main building.
The Villa, located at 3000 Highland Dr., will officially open Friday with first-run showing of the Twentieth Century-Fox picture, "Prince of Foxes."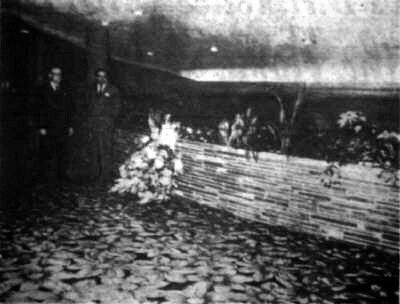 IN FOYER OF NEW SHOWHOUSE - Joseph L. Lawrence (left), and David K. Edwards of the Joseph L. Lawrence Theater, operators of the new Villa Theater in Sugar House are shown in the foyer beside the planting box.